Delegationsreise mit Wirtschaftssenator Horch
TUHH baut Kooperation mit dem Japanischen Meeresforschungsinstitut JAMSTEC aus
05.06.2012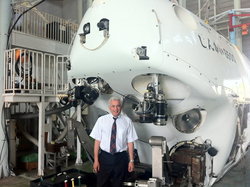 Die langjährige Zusammenarbeit zwischen der TUHH und der Japan Agency for Marine-Earth Science and Technology (JAMSTEC), die auf eine Initiative von Professor Garabed Antranikian und seinem japanischen Kollegen Professor Koki Horikoshi aus dem Jahr 1995 zurückgeht, wird weiter ausgebaut, insbesondere auf den Zukunftsfeldern der industriellen Biotechnologie und der grünen Technologien. Dies ist das Ergebnis einer gemeinsamen Sitzung von TU-Präsident Antranikian mit dem Präsidenten von JAMSTEC, Dr. Asahiko Taira, und dessen Vizepräsidenten Dr. Hitoshi Hotta und Dr. Yoshihisa Shirayama am Rande der Asiendelegationsreise von Wirtschaftssenator Horch.
Mit seinem Kollegen Professor Fukuzawa, der am JAMSTEC eine international führende meeresbiologische Arbeitsgruppe leitet, hat Professor Antranikian gemeinsame Forschungsthemen identifiziert, die in der bilateralen Kooperation bearbeitet werden sollen. Kernpunkt sind dabei Mikroorganismen aus der Tiefsee, die bei extremen Bedingungen (Temperaturen kleiner als 10°C und Druck größer als 1000 bar) wachsen können und Enzyme produzieren, die in umweltfreundlichen industriellen Prozessen eingesetzt werden können. Ganz konkret fahnden die Forscher nach Enzymen, die in der Lage sind, Cellulose und Lignin in ihre Grundbausteine zu zerlegen, um daraus Chemikalien und Biokraftstoffe zu gewinnen. "Diese Forschungsthemen stärken die TUHH-Kompetenzfelder Green Technologies und Life Science Technologies. Die Kooperation mit dem JAMSTEC ermöglicht uns dabei den Zugang zu ungewöhnlichen Mikroorganismen aus der Tiefsee, die wir mit unserem biotechnologischen Know-how an der TUHH in industriellen Verfahren einsetzen können", freut sich Professor Antranikian. Für JAMSTEC ist die Kooperation mit der TUHH ein wichtiger Meilenstein, um die Grundlagenforschung zu stärken und die für die industrielle Umsetzung notwendige verfahrenstechnische Expertise zu ergänzen.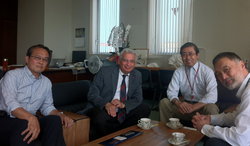 Vor Unterzeichnung des Kooperationsvertrags hat Professor Antranikian einen Vortrag unter dem Titel "Unlocking the tremendous potential of extremophiles for application in Green Technologies" gehalten und dabei eine positve Zwischenbilanz der bisherigen Zusammenarbeit gezogen. So ist es gelungen, neuartige Mikroorganismen zu isolieren, die aus Tiefsee- und Sedimentproben gewonnen wurden. Dabei kommen sowohl JAMSTECs zahlreiche Forschungsunterseeboote als auch das hochmoderne Bohrschiff "Chikyu" zum Einsatz. Für die Zukunft sind weitere Expeditionen geplant, um das industrielle Potenzial der Tiefseeorganismen weiter zu erforschen.
Text: Dr. Ralf Grote
See also: www.jamstec.go.jp
---
TUHH - Public Relations Office
Jutta Katharina Werner
E-Mail: pressestelle@tuhh.de