Vortragsveranstaltung mit Susumu Shingu
01.03.2012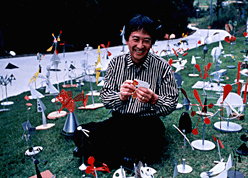 Was halten Sie von einer künstlerischen Reise durch die Welt der Energie von Wind und Wasser? Zu einer ganz besonderen Vortragsveranstaltung "Breathing Earth" mit dem international agierenden japanischen Künstler Susumu Shingu am
6. März 2012 ab 19.30 Uhr
Karl H. Ditze Hörsaal (0.16), Gebäude H
laden wir Sie in Zusammenarbeit mit dem Japanischen Generalkonsulat herzlich ein.
"Die Natur kennt keinen starren Widerstand", sagt Susumu Shingu, der sich seit vielen Jahren künstlerisch mit der Energie von Wind und Wasser auseinandersetzt. Er entwirft Skulpturen, die sich vom Wind tragen lassen, ihn aufnehmen und sich durch ihn auf immer andere Weise verändern. In seinen oft großen Objekten und Installationen wird die Kraft der Elemente sichtbar. Mit großen Architekten arbeitet der vielfach begabte Shingu zusammen, belebt mit seinen Skulpturen deren Bauten, er entwickelt Bühnenbilder und stellt Kinderbücher her.
In seinem Vortrag in englischer Sprache wird Susumu Shingu sein Projekt "Breathing Earth" (die atmende Erde) vorstellen: ein Dorf, das nur mit natürlichen Energien aus Wind und Sonne betrieben wird als Ort der Inspiration für Künstler, Wissenschaftler und Kinder. Darüber hinaus wird er sein Projekt "Atelier des Reisfeldes" erläutern, in dem junge Menschen von der Natur lernen, wie wir in Zukunft auf der Erde leben sollten. Ferner wird er seine Werke beschreiben, die lediglich durch Wind und Wasser in Bewegung gesetzt werden.
Im Anschluss laden wir Sie herzlich zu einem Umtrunk ein.
Um Anmeldung bitten wir bis zum 5. März 2012 unter: regina.vaharmaa@tuhh.de, Tel.: 428 78 2699
Weitere Informationen zum Künstler auf seiner Homepage: http://www.susumushingu.com
Der mehrfach ausgezeichnete Künstler Susumu Shinghu wurde 1937 in Osaka, Japan, geboren. Nach dem Studienabschluss mit dem Hauptfach Ölmalerei an der Tokyo University of Arts 1960 folgten weitere Studien an der Accademia die Belle Arti in Rom. Seine Werke werden u. a. in Europa, Japan und Amerika ausgestellt und befinden sich z. B. im Logan Airport, Massachusetts, und im New England Aquarium, Boston.
English lecture with the Japanese artist Susumu Shingu "Breathing Earth" in cooperation with the Japanese Generalkonsulat
March 6, 2012, 7.30 p.m.,
TUHH, Karl H. Ditze Hörsaal (0.16), building H, Schwarzenbergstraße 95
Susumu Shingu will present his project "Breathing Earth" – the self-sustaining village that functions on natural energy. Furthermore, he will explain his project "Atelier in the Rice Paddies". Together with children he tries to discover how we should live in the future on this planet by learning from nature. Moreover he will describe his wind activated sculptures.
After the lecture you are invited to a drink.
Susumu Shingu (1937 - ) was born in Osaka, Japan and after graduating from the Tokyo University of Arts in 1960, he studied at the Accademia di Belle Arti di Roma. His work has been exhibited in Europa, Japan and in the USA, e .g. he has a work at Logan Airport in Boston.
For registration please contact: regina.vaharmaa@tuhh.de, Tel.: 0407428 78-2699 until March 5, 2012
For more information about the artist: http://www.susumushingu.com/
Text: Saskia Kapels
---
TUHH - Public Relations Office
Jutta Katharina Werner
E-Mail: pressestelle@tuhh.de