Kühne School of Logistics and Management: Wechsel in der Geschäftsführung
03.06.2009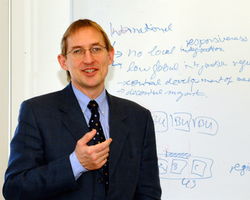 Professor Dr. Wolfgang Kersten scheidet mit Ablauf seiner Amtszeit turnusgemäß zum 30. Juni 2009 als Präsident und Geschäftsführer bei der Kühne School of Logistics and Management aus. Professor Kersten wird sich künftig auf seine Forschungs- und Lehrtätigkeiten am Institut für Logistik und Unternehmensführung der Kühne School konzentrieren.

Der Präsident der Technischen Universität Hamburg-Harburg (TUHH), Professor Dr.-Ing. Edwin Kreuzer würdigte die Verdienste von Professor Kersten um den erfolgreichen Aufbau und die erfolgreiche Entwicklung der Kühne School of Logistics and Management: "Herr Kersten hat über sechs Jahre hinweg den Aufbau der Kühne School maßgeblich gestaltet und das positive Erscheinungsbild geprägt. Es ist mit sein Verdienst, dass die Management-Wissenschaften an der TUHH zu einem fachlich starken Schwerpunkt ausgebildet wurden. Das hervorragende Ausbildungsangebot und neue Forschungsarbeiten auf diesem Gebiet werden das Profil der TUHH nachhaltig beeinflussen."

Ab dem 1. Juli 2009 wird Jeanny Wildi als neue Geschäftsführerin die kaufmännische Leitung der Kühne School of Logistics and Management GmbH übernehmen. Frau Wildi studierte an der Indiana University (USA) und der Universität Hamburg angewandte Sprachwissenschaften und verfügt über einen MBA in Corporate Finance der Kelley School of Business (USA). Frau Wildi wurde im Jahr 2007 auf dem Gebiet der Akkreditierung und des Qualitätsmanagements von privaten Hochschulen an der University of Leicester (Großbritannien) promoviert.

Die Metropolregion Hamburg, als führender Logistikstandort Europas, war 2003 der ideale Ort für die Gründung einer Business School mit Schwerpunkt Logistik. Die Kühne-Stiftung, die Freie und Hansestadt Hamburg und die TUHH legten gemeinsam den Grundstein für diese Kooperation, unmittelbar angeschlossen an die TUHH.

Im Jahre 2007 folgte die Erweiterung und Umbenennung zur Kühne School of Logistics and Management aufgrund einer bedeutenden Spende des Logistik-Unternehmers Klaus-Michael Kühne. Diese Spende ermöglichte die gezielte Weiterentwicklung der Aus- und Weiterbildung von qualifizierten Fach- und Führungskräften mit internationaler Ausrichtung und die Forschung auf dem Gebiet der Logistik.

Satzungsgemäß verfolgt die Kühne-Stiftung in erster Priorität die Förderung der Aus- und Weiterbildung sowie der Wissenschaft und Forschung auf den Gebieten Verkehrswirtschaft und Logistik. Ein weiterer Förderschwerpunkt ist die Unterstützung medizinischer Wissenschaften, humanitärer und karitativer Anliegen sowie von kulturellen Vorhaben.
---
TUHH - Public Relations Office
Rüdiger Bendlin
E-Mail: bendlin@tuhh.de
Phone: +49 40 428 78 3330