Junge Stadtplaner ausgezeichnet - Irene und Friedrich Vorwerk-Stiftung fördert Studierende der TUHH
29.04.2005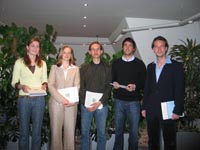 Die Irene-und-Friedrich-Vorwerk-Stiftung mit Sitz in Tostedt, Landkreis Harburg, hat jetzt Förderpreise an 22 Studierende des Studienganges Stadtplanung der TUHH in Höhe von 7.000 Euro verliehen. Ausgezeichnet wurden acht Absolventen mit den besten Bachelor of Science-Abschlüssen des Jahres 2004, sowie drei Teams, für herausragende Studienarbeiten. Die Förderpreise wurden zum dritten Mal verliehen. Überreicht wurden diese durch die Vorsitzende des Stiftungsrates Irene Vorwerk.

"Diese Preise sind Ausdruck der Zielsetzung unserer Stiftung. Sie dienen der Förderung und der Motivation des wissenschaftlichen Nachwuchses an der TUHH. Sehr gute und praxisrelevante Leistungen junger Stadtplaner sollen honoriert werden", sagte Peter Tödter, Mitglied des Stiftungsrates.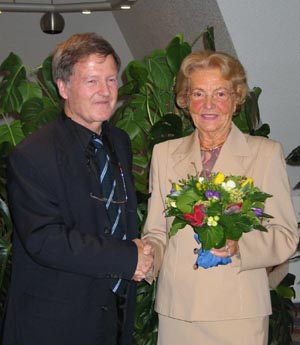 In Anwesenheit von Prof. Dr.-Ing. Rudolf Eggers, Sprecher der Dekane der TUHH und den betreuenden Professoren, hat Christian Weiß, Vorstand der Vorwerk-Stiftung, die Preisträger ausgezeichnet. Gewürdigt wurden die Bachelor of Science-Absolventen: Johannes Bouchain, Tom Dziomba, Arend Kölsch, Ulrike Maier, Torben Rave, Sina Rohlwing, Stephan Rothenburg und Sopie Schramm.

Für ihre herausragende Projektarbeit ausgezeichnet wurden: Robin Denstorff, Johannes Elle und Torben Sell "Entwicklungsperspektiven für die Kreisstadt Mettmann". Außerdem erhielten Anna Becker, Samy Schneider, Christoph Seyler und André Westendorf für ihre Untersuchungen des Stadtquartiers Hamburg-Ottensen ("Auf der Suche nach der zeitgerechten Struktur) einen Preis. Ferner wurden Ines Kommert, Jan Krimson, Claudia Penndorf, Nell Rabausch, Anna Thode, Gerhard Wittke und Janie Wrage für das Projekt "SteP - Stadtmarketing Trittau" ausgezeichnet.

Der Studiengang Stadtplanung ist mit rund 400 Studierenden an der TUHH der drittgrößte Studiengang nach Elektrotechnik und Informatik-Ingenieurwesen. Ausgewählt wurden die Förderpreise von einer Jury mit Vertretern der TUHH und der Irene-und-Friedrich-Vorwerk-Stiftung.



---
TUHH - Public Relations Office
Ingrid Holst
E-Mail: pressestelle@tuhh.de