Edwin Kreuzer zum neuen Präsidenten der TUHH gewählt
10.11.2004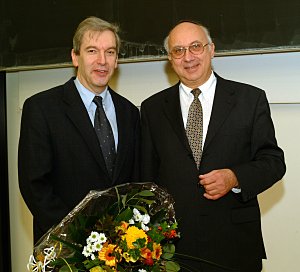 Prof. Dr.-Ing. Edwin Kreuzer ist neuer Präsident der Technischen Universität Hamburg-Harburg (TUHH). Er wurde am 1. November 2004 einstimmig vom Hochschulrat der TUHH gewählt und heute in diesem Amt vom Hochschulsenat der TUHH bestätigt. Die notwendige formelle Bestellung durch den Senat der Hansestadt Hamburg erfolgt voraussichtlich noch in diesem Jahr. Der neue Präsident wird am 1. April 2005 für die Dauer von sechs Jahren sein Amt antreten.

Hochschulratsvorsitzender Walter Conrads: "Wir freuen uns, eine Persönlichkeit gefunden zu haben, die sowohl über die heute in Universitäten erforderlichen Management- Erfahrungen als auch über hervorragende Kontakte zu wichtigen akademischen Institutionen und Gremien im In- und Ausland verfügt." Mit der Wahl für Professor Kreuzer habe sich der Hochschulrat bewusst für eine Persönlichkeit aus der Welt der Wissenschaft entschieden. Der 57-Jährige Professor bringe alle Voraussetzungen mit, um die TUHH im anstehenden Wettbewerb der Hochschulen in der internationalen Rangliste der Besten zu etablieren. Er habe zugleich das Rüstzeug, um mit neuen Impulsen die auf vielen Ebenen - maßgeblich durch die Hamburger Hochschulreform und den Bologna-Beschluss - eingeläuteten Veränderungsprozesse zu gestalten. Kreuzer verkörpere in einer Person einen Wissenschaftler von hohem Rang und versierten Wissenschaftsmanager. Als Forscher genieße der 57-Jährige ein weltweites Renommee.

Die Wahl des Präsidenten der TUHH war die erste Präsidentenwahl nach dem 2003 novellierten Hamburgischen Hochschulgesetz.

Kreuzer tritt die Nachfolge von Prof. Dr.-Ing. Christian Nedeß an, der seit 1999 dieses Amt innehat und am 7. April 2005 offiziell verabschiedet wird. Der Wahl des neuen Präsidenten vorausgegangen war ein mehrstufiges Auswahlverfahren. An dessen Ende setzte sich Kreuzer klar gegen seine Mitbewerber durch.

Professor Kreuzer war von 1993 bis 1995 Vizepräsident der TUHH. Der Ingenieurwissenschaftler forscht und lehrt seit 1988 an der TUHH, zunächst als Professor für "Strukturdynamik" und seit 1996 als Leiter des Arbeitsbereiches "Mechanik und Meerestechnik". Seine wichtigsten Forschungsgebiete sind die Nichtlineare Dynamik, Numerischen Methoden der Dynamik, Fluid- Struktur Wechselwirkungen und die Dynamik von Mehrkörpersystemen.


Im September diesen Jahres erhielt Edwin Kreuzer die Ehrenprofessur der Nanjing University of Science and Technology, China. Der TUHH-Forscher ist in mehreren der weltweit wichtigsten akademischen Gremien vertreten und Herausgeber oder Mitherausgeber von vier internationalen wissenschaftlichen Zeitschriften. Kreuzer ist Mitglied der Joachim Jungius-Gesellschaft der Wissenschaften, Hamburg und war u.a. Gastprofessor der University of California, Berkeley, USA.

Seine wissenschaftliche Karriere begann mit dem Studium des Maschinenbaus, zunächst am Rudolf-Diesel-Polytechnikum der Stadt Augsburg mit dem Abschluss Ing. (grad.) und danach an der TU München mit dem Abschluss Dipl.-Ing. 1979 folgte die Promotion an der Universität Stuttgart ("Symbolische Berechnungen der Bewegungsgleichungen von Mehrkörpersystemen"). 1986 wurde er an der Universität Stuttgart im Gebiet Mechanik mit der Arbeit "Numerische Untersuchung nichtlinearer dynamischer Systeme" habilitiert. Berufliche Praxis sammelte Kreuzer von 1965 bis 1971 in dem Unternehmen, in dem er 1961 bis 1965 seine Lehre als Werkzeugmacher absolvierte: der Firma Siemens in Augsburg.

An der TUHH war Kreuzer von 1998 bis 2002 Sprecher des Forschungsschwerpunktes "Bautechnik und Meerestechnik", seit 1988 ist er Mitglied des Prüfungsausschusses des Studiendekanats "Maschinenbau" sowie seit 1998 Vorsitzender des Promotionsausschusses.

Professor Kreuzer ist verheiratet, hat zwei Kinder und lebt mit seiner Familie in Hamburg-Heimfeld. Der Bayer aus Schwaben liebt die Berge und findet beim Wandern und Skifahren sowie in der Musik privat den Ausgleich zum Wissenschaftsbetrieb.

---
TUHH - Public Relations Office
Jutta Katharina Werner
E-Mail: pressestelle@tuhh.de