TUHH Masterstudiengang zum Wirtschaftsingenieur in eigener Regie
05.10.2006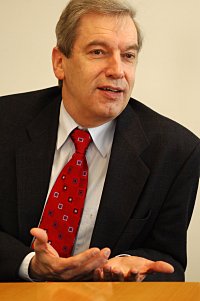 Die TUHH bietet künftig einen eigenen Studiengang im Wirtschaftsingenieurwesen an. Als Ergebnis einer umfassenden Reformdiskussion gab der Senator der Behörde für Wissenschaft und Forschung, Jörg Dräger, heute grünes Licht für eine eigenständige Ausbildung zum Wirtschaftsingenieur an der TUHH. Der neue Master-Studiengang soll bereits zum Wintersemester 2007/08 mit 50 Studienanfängern starten. "Diese Entscheidung ist für die TUHH eine große Chance, ihr Profil weiter zu schärfen und macht uns konkurrenzfähiger gegenüber den neun großen Technischen Universitäten in Deutschland", sagte TUHH-Präsident Prof. Dr.-Ing. Edwin Kreuzer.

Außer diesem auf einen ingenieurwissenschaftlichen Bachelor aufbauenden Master-Studien-Angebot soll es künftig in Hamburg einen integrierten, von Universität und der Hochschule für Angewandte Wissenschaften (HAW) verantworteten Wirtschaftsingenieur geben. Beide Konzepte lösen das bisherige trilaterale von der Universität, der HAW und TUHH angebotenen "Hochschulübergreifenden Studiengang Wirtschaftsingenieur" (HWI) ab, der wegen einer geringen Studienerfolgsquote sowie langen Fachstudiendauer dringend eine Reform erforderlich machte. Hinzu kommt die notwendige Umstellung auf das Bachelor-Master-Studiensystem, die jetzt eine Reform des HWI bedingt. Denn die heutige Struktur des Drei-Hochschulmodells ist nicht mit dem Bachelor-Master-System kompatibel.

Das konsekutive Studienmodell an der TUHH sieht zunächst ein sechssemestriges Bachelor-Studium in einem ingenieurwissenschaftlichen Fach vor. Daran schließt sich ein vier Semester dauerndes Master-Studium in Betriebswirtschaftslehre mit technischer Orientierung an. Diese international kompatible Struktur ermöglicht "echten" Bachelor-Ingenieurinnen und Ingenieuren, die für Führungsaufgaben in Unternehmen erforderlichen wirtschaftswissenschaftlichen Qualifikationen zu erwerben. Damit bietet das konsekutive Modell BA-Absolventen der Ingenieurwissenschaften erweiterte Wahlmöglichkeiten: Außer den existierenden ingenieurwissenschaftlichen Master-Angeboten an der TUHH kommt erstmals als eine Option die Wirtschaft hinzu. Für die TUHH bietet sich dadurch zudem die Chance, ihre bereits heute im Northern Institute of Technology (NIT) und der Hamburg School of Logistics (HSL) etablierten betriebswirtschaftlichen Master-Angebote zu bündeln und dadurch konkurrenzfähiger gegenüber den neun großen Technischen Universitäten in Deutschland (TU9) zu werden.
See also: http://fhh.hamburg.de/stadt ... /pressemeldungen/start.html
---
TUHH - Public Relations Office
Jutta Katharina Werner
E-Mail: pressestelle@tuhh.de