Preis für herausragende Leistungen und Verdienste um die TU vergeben
Mit insgesamt 6000 Euro dotierter Karl H. Ditze Preis geht an drei Abschlussarbeiten und ein studentisches Projekt
24.07.2023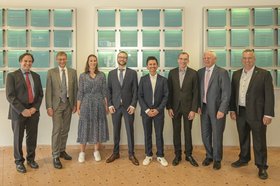 Innovativ, motiviert und wissenschaftlich fundiert: In diesem Jahr wurden erneut Studierende und Absolvent∗innen der Technischen Universität Hamburg für ausgezeichnete wissenschaftliche Leistungen und soziales Engagement mit dem Karl H. Ditze Preis geehrt.
Die Karl H. Ditze Stiftung fördert Hamburger Hochschulen und unterstützt gemeinnützige und soziale Projekte. An der TU Hamburg werden aus Mitteln der Ditze Stiftung unter anderem Studierende mit dem Deutschlandstipendien gefördert und studentische Projekte unterstützt. Der seit 2000 jährlich ausgelobte Karl H. Ditze Preis wird für herausragende Bachelor- und Masterarbeiten sowie Dissertationen und an Studierende vergeben, die sich in besonderer Weise um die TU verdient gemacht haben.
In diesem Jahr wurden die folgenden Preisträger∗innen geehrt:
Die Studiengangsbotschafter∗innen bieten seit Oktober 2022 dekanatsübergreifend Peer-to-Peer-Beratung für junge Menschen an, die sich für ein Studium an der TU Hamburg interessieren. Die 26 Studierenden und sieben wissenschaftlichen Mitarbeitenden aus verschiedenen Fachrichtungen stellen die Hochschule in Schulen, auf Messen und Infoveranstaltungen ehrenamtlich vor.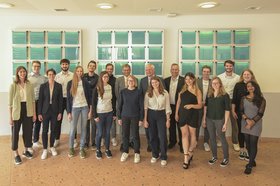 Christina Buggisch studierte Maschinenbau an der TUHH und arbeitete von 2018 bis 2022 als wissenschaftliche Mitarbeiterin am Institut für Kunststoffe und Verbundwerkstoffe. Heute ist sie bei einem Betreiber deutscher Windparks im technischen Asset Management tätig. Geehrt wurde Buggisch für ihre Promotion. In ihrer Arbeit entwickelte sie Sensoren, die eine Echtzeit-Schadenserkennung und -bewertung in Strukturen von Hochleistungs-Glasfaserverstärkten Kunststoffen (GFK) ermöglichen. Diese werden beispielsweise in Rotorblättern von Windenergieanlagen eingesetzt.
Jannik Jacobsen studierte Technomathematik an der TUHH und der Uni Hamburg. Während seines Studiums engagierte er sich als Tutor an verschiedenen Instituten. Seit seinem Masterabschluss im November 2022 arbeitet er als Machine Learning Engineer in einer Beratungsfirma im Bereich Cloud-Computing. In seiner ausgezeichneten Masterarbeit untersuchte er die Anwendung von LDPC-Codes, die in vielen modernen elektronischen Kommunikationssystemen wie WiFi oder Mobilfunk eingesetzt werden, um Nachrichten vor Störungen zu schützen.
Maximilian Kamp wurde für seine Bachelorarbeit mit dem Titel "Experimental Investigation of the Flow Behavior of Lagrangian LED Particles in a 200 L Bioreactor" geehrt. Darin beschäftigte er sich mit dem Verständnis über die Vorgänge im Inneren von Rührreaktoren, um die Produktqualität bei der industriellen Herstellung biopharmazeutischer Produkte zu gewährleisten.
---
TUHH - Public Relations Office
Kaja Weber
E-Mail: kaja.weber@tuhh.de