"You made it!"
Absolventinnen und Absolventen der TU Hamburg feiern ihren Abschluss
11.06.2022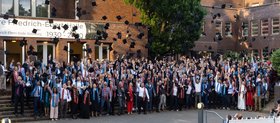 310 Absolventinnen und Absolventen der Technischen Universität Hamburg wurden am 10. Juni 2022 im Rahmen der Absolventenfeier verabschiedet und nahmen persönlich ihre Urkunden entgegen. Die Feier fand mit rund 1000 Gästen in der Friedrich-Ebert-Halle statt.
In akademischer Kleidung, mit traditionellen Schärpen und Hüten, zogen die Absolventinnen und Absolventen aus 34 Ländern unter anhaltendem Applaus ihrer Familien und Freunde in die Harburger Friedrich-Ebert-Halle ein. Dort nahmen sie ihre Urkunden zum Bachelor of Science, Master of Science und Doktortitel in den Ingenieurwissenschaften entgegen. Insgesamt haben 830 Studierende, davon 59 Doktorandinnen und Doktoranden, ihren Abschluss an der TU Hamburg gemacht.
Die Vizepräsidentin Lehre der TU Hamburg, Kerstin Kuchta, begrüßte das Auditorium und beglückwünschte die Studierenden zu ihren Leistungen mit dem Ausspruch "You made it! Seid stolz auf euch. Ich bin es auch." Jetzt gehe es darum, die Zukunft zu gestalten. Dazu forderte sie die Absolvent∗innen auf, ihr gelerntes Wissen anzuwenden und sich auf keinen Fall entmutigen zu lassen.
Anschließend sprach Eva Gümbel, Staatsrätin der Behörde für Wissenschaft, Gleichstellung und Bezirke (BWFGB). In ihrer Festrede würdigte sie die internationale Ausrichtung der TU Hamburg und betonte die Wichtigkeit von grenzüberschreitender Zusammenarbeit. Zu den Absolventinnen und Absolventen sagte sie: "Technologie ist für den Fortbestand unserer Gesellschaft so nötig wie nie zuvor. Wir brauchen Ingenieure, Entwickler und Programmierer. Wir sind froh, dass wir Sie haben, denn Sie besitzen jetzt das Werkzeug, um die Welt positiv zu verändern."
Stellvertretend für alle Studierenden sprachen Jennifer Hartert und Paula Traulsen, die ihren Master am Dekanat Bauwesen erworben haben. Sie betonten, wie wichtig Freundschaften im Studium sind, um kleine und große Probleme zu meistern.
Unter den Gästen befand sich auch der Erste Bürgermeister der Stadt Hamburg, Peter Tschentscher. Er beglückwünschte die Absolventinnen und Absolventen ganz herzlich: "Gerade die technischen Studiengänge werden für die Entwicklung von Wirtschaft und Gesellschaft immer wichtiger. Wer dafür Talent hat, für den ist es eine gute Idee, Ingenieurwissenschaften zu studieren. Das Studium ist nicht einfach, aber es sind spannende Fächer für ein interessantes Berufsleben."
Höhepunkt der Veranstaltung war die Überreichung der Urkunden an die 310 Hauptakteure des Abends. Jede Absolventin und jeder Absolvent wurde namentlich auf die Bühne gebeten und von den jeweiligen Dekanen und Prüfungsausschussvorsitzenden sowie der Fest-Organisatorin Bärbel Müller mit einer Urkunde geehrt.
Den Abend begleitete die TU Hamburg Big Band SwingING unter der Leitung von Larry Bartels. Alumni-Koordinatorin Vera Lindenlaub und Kristin Schreiber, Alumni- und Community Managerin des Northern Institute of Technology (NIT) moderierten die Veranstaltung.
---
TUHH - Public Relations Office
Lena Bender
E-Mail: lena.bender@tuhh.de