TUHH: Dr. Mouna Kehili forscht als Alexander von Humboldt Stipendiatin an der Verwertung von Industrieabfällen
21.02.2020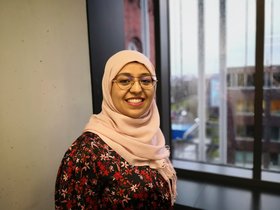 Die Umwelt schonen und zeitgleich wirtschaftliche Gewinne erzielen? Technisch ist das möglich. Seit Januar 2020 forscht Dr. Mouna Kehili im Rahmen ihres Alexander von Humboldt Stipendiums für Postdoktoranden an der Technischen Universität Hamburg (TUHH). Am Institut für Thermische Verfahrenstechnik unter der Leitung von TUHH-Professorin Irina Smirnova arbeitet die Wissenschaftlerin für zwei Jahre an einer nachhaltigen und umweltfreundlichen Verwertung von industriellen Nebenprodukten wie Oliven- und Dattelresten, die in der Agrar- und Lebensmittelindustrie Tunesiens entsorgt werden.
Mit einer Jahresproduktion von 350.000 Tonnen Olivenöl und 340.000 Tonnen Datteln im Jahr 2019 gehört Tunesien zu den vier größten Erzeugern und Exporteuren dieser Produkte weltweit. In der Produktion fallen dabei rund 650.000 Tonnen an festen und eine Million Tonnen an flüssigen Abfällen von Oliven an, sowie 30.000 Tonnen Dattelkerne. Trotz des wirtschaftlichen Nutzens stellt die Entsorgung dieser Abfälle jährlich ein akutes Umweltproblem dar. Genau hier setzt die Forschung der gebürtigen Tunesierin ein: "Mein Ziel ist es den Rohstoff Biomasse so effizient und nachhaltig wie möglich zu verwerten". An der TUHH möchte die Wissenschaftlerin deshalb mit Hilfe von Bioraffinerieprozessen wertvolle, biobasierte Stoffe und Verbindungen von Oliven- und Dattelabfällen extrahieren. Die daraus gewonnenen bioaktiven Naturstoffe können beispielsweise für die Herstellung von Medikamenten, kosmetischen Produkten oder auch Lebensmitteln verwendet werden. Dabei ersetzen die Naturstoffe chemisch produzierte Inhaltsstoffe wie Tenside, Alkohol, Fette, Öle oder Farbstoffe. "Mein Forschungsprojekt zeigt, dass sich Umweltschutz und Wirtschaftlichkeit nicht ausschließen", sagt Dr. Mouna Kehili. "Das motiviert mich auch andere industrielle Nebenprodukte, wie beispielsweise Kaffeesilberhäute, auf ihre Verwertbarkeit hin zu untersuchen. Für die Zukunft möchte ich so eine natürliche Basis für die Gesundheit und das Wohlbefinden der Menschen schaffen", so die Stipendiatin weiter.
Kehili absolvierte 2012 erfolgreich ihren doppelten Masterabschluss im Bereich Bioingenieurwesen an der University of Sfax, Tunesien, und der Virginia Polytechnic Institute and State University, USA. Sechs Jahre später promovierte die Wissenschaftlerin an der University of Sfax zur Verwertung industrieller Tomaten-Nebenprodukten durch Bioraffinerieprozesse. Mit ihrem durchdachten Konzept für das Alexander von Humboldt Stipendium für Postdoktoranden überzeugte die Jungforscherin ein Auswahlgremium aus international renommierten Wissenschaftlerinnen und Wissenschaftlern. Damit ist Kehili eine von jährlich 500 Humboldt-Forschungsstipendiatinnen und -stipendiaten.
Mehr Informationen zur Alexander von Humboldt Stiftung unter https://www.humboldt-foundation.de/web/start.html
---
TUHH - Public Relations Office
Franziska Trede
E-Mail: franziska.trede@tuhh.de
Phone: +49 40 428 78 3458