TUHH Wissenschaftler berichten am Golf von Mexiko über neueste Erkenntnisse zur Deepwater Horizon Ölkatastrophe
07.02.2020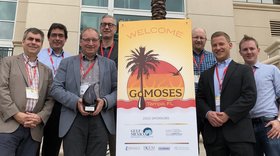 Welche Maßnahmen sollten ergriffen werden, wenn es bei der Förderung von Erdöl in Tiefen von bis zu 3.000 Metern zu einem technischen Versagen kommt? Wissenschaftlerinnen und Wissenschaftler aus aller Welt treffen sich derzeit auf der "Gulf of Mexico Oil Spill & Ecosystem Science Conference" in Tampa, USA, um dieser Frage am Beispiel der Tiefsee-Katastrophe im Golf von Mexiko nachzugehen, die 2010 durch die Explosion der Ölbohrplattform "Deepwater Horizon" ausgelöst wurde. Damals traten mehr als 700 Millionen Liter Öl aus und verursachten die bisher größte Ölpest der USA.
Mit den neuesten Erkenntnissen der Hamburger Wissenschaftler ist nun klar, dass die besonderen Bedingungen in der Tiefsee bei der Vorhersage von Ausbreitung und biologischem Abbau des Öls berücksichtigt werden müssen. In Laborversuchen unter Tiefseebedingungen (u.a. 150 bar Druck) wurde an der TUHH der "Blowout" sowie die Ölausbreitung und der biologische Abbau nachgestellt. Beteiligt hieran waren das "Institut für Produktentwicklung und Konstruktionstechnik", das "Institut für Technische Biokatalyse" und das "Institut für Mehrphasenströmungen". "Mit unseren Untersuchungen konnten wir belegen, dass die 2010 in großen Mengen eingesetzten Chemikalien zur Dispergierung des Öls weitgehend nutzlos waren und sich das Öl durch natürliche Entgasungsprozesse wesentlich weiter ausgebreitet hat, als bisher angenommen." sagt Projektleiter Prof. Dr.-Ing. Michael Schlüter, Institut für Mehrphasenströmungen.
"Es war eine tolle Erfahrung, in einen internationalen Konsortium u.a. gemeinsam mit der University of Miami und der University of Western Australia zusammenzuarbeiten und die entdeckten Effekte erfolgreich in Simulationsrechnungen zu berücksichtigen." fügt Simeon Pesch hinzu, der derzeit auf dem Projekt promoviert. Nach 10 Jahren Förderung durch die "Gulf of Mexico Research Initiative" endet das erfolgreiche Projekt "Center for Integrated Modeling and Analysis of the Gulf Ecosystem" (C-IMAGE) 2020. Die Kontakte zu den internationalen Wissenschaftlerinnen und Wissenschaftlern in aller Welt bleiben erhalten und sollen auch künftig für gemeinsame Projekte und den Austausch von Studierenden genutzt werden.
Weitere Informationen: Dokumentation "Dispatches from the Gulf":
https://www.youtube.com/watch?v=lN4TE0IBhkk&feature=youtu.be
Text: Michael Schlüter
---
TUHH - Public Relations Office