Tiefsee-Ölkatastrophen im Fokus: 3. Hamburg Symposium on Deep-Sea Oil Spills an der TUHH
05.12.2019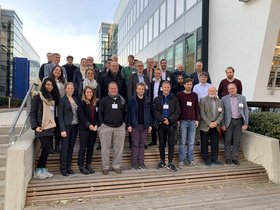 Mehr als 30 Wissenschaftlerinnen und Wissenschaftler sowie Industrievertreterinnen und –Vertreter aus aller Welt sind am 5. Dezember 2019 zum "3. Hamburg Symposium on Deep-Sea Oil Spills" an der Technischen Universität Hamburg (TUHH) zu Gast. Ziel des Treffens ist der Austausch über neueste Erkenntnisse rund um die Folgen von Tiefsee-Ölkatastrophen und die effiziente Bekämpfung von Ölverschmutzungen.
Die Förderung von Erdöl findet in Tiefen von bis zu 3.000 Metern statt. Bei diesem Vorgehen kann es zu Tiefsee-Ölkatastrophen wie dem Deepwater Horizon Unglück kommen, bei dem 2010 mehr als 700 Millionen Liter Öl in den Golf von Mexiko gelangten. Auf dem TUHH-Symposium werden daher insbesondere die technischen Herausforderungen des Öl-Abbaus besprochen und diskutiert, inwiefern künftige Ölkatastrophen und deren schwerwiegende Folgen auf die Umwelt minimiert werden können. So entwickelte die TUHH gemeinsam mit der University of Western Australia und der University of Miami ein neuartiges Computermodell, mit dessen Hilfe die Ausbreitung von Öl in der Tiefsee exakt vorhergesagt werden kann. "Ziel ist es, die Auswirkung von künftigen Ölkatastrophen in der Tiefsee besser vorherzusagen und Rettungsmaßnahmen gezielter und effektiver auszuwählen", sagt Prof. Dr.-Ing. Michael Schlüter, Leiter des TUHH-Instituts für Mehrphasenströmungen.
Die Konferenz ist Teil des an der TUHH laufenden Projekts "Center for Integrated Modeling and Analysis of the Gulf Ecosystem" (C-IMAGE). Darin untersuchen die TUHH-Institute für Produktentwicklung und Konstruktionstechnik sowie für Technische Biokatalyse und Mehrphasenströmungen das Ausbreitungsverhalten und den biologischen Abbau von Öl.
Dokumentation "Dispatches from the Gulf":
https://www.youtube.com/watch?v=lN4TE0IBhkk&feature=youtu.be
Informationen zum Symposium:
https://www.tuhh.de/ims/oil-spill-symposium.html
---
TUHH - Public Relations Office
Franziska Trede
E-Mail: franziska.trede@tuhh.de
Phone: +49 40 428 78 3458