Stanford-Programm bildet TUHH-Studenten zu Agenten des Wandels aus
12.12.2018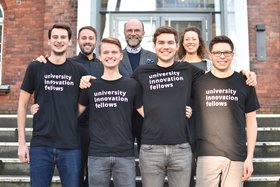 Vier Master-Studenten der Technischen Universität Hamburg (TUHH) haben erfolgreich am internationalen University Innovation Fellows Programm teilgenommen. Das Förderprogramm wird vom Hasso Plattner Institute of Design an der Stanford Universität in den USA organisiert. 2018 wurden 358 Studierende von 96 Universitäten aus 16 Ländern zu University Innovation Fellows ausgebildet. Das Programm unterstützt Studierende ihre Universitäten mit innovativen und unternehmerischen Ideen voranzutreiben. So können beispielsweise Lösungskonzepte entstehen, um Forschungs- und Lehrangebote zu verbessern, um das Zusammengehörigkeitsgefühl zu stärken oder um Kooperationen zu bilden.
Auf Inspiration folgt Innovation: Während des sechswöchigen Kurses qualifizierten sich die TUHH-Studenten des Wirtschaftsingenieurwesens und der Internationalen Mechatronik Tim Hansen, Dustin Hochmuth, Jonas Köster sowie Jakob Scheitza zu so genannten Change-Agents. Um die Strukturen an der TUHH zu vereinfachen, haben die Studenten das Projekt Funkenflug ins Leben gerufen. Zusammen mit Studierenden, Professorinnen und Professoren und Mitarbeitenden der TUHH wollen die Studenten im ersten Schritt Probleme im täglichen Leben auf dem Campus identifizieren. Über eine Online-Abstimmung können alle TUHH-Angehörigen Verbesserungswünsche abgeben und für ihren Favoriten abstimmen. Im zweiten Schritt werden TUHH-Teams gebildet, die in einer Veranstaltung Ideen zur Lösung von fünf Hauptproblemen entwickeln. "Aus Wünschen wollen wir gemeinsam ideensprühende Lösungskonzepte herausarbeiten, die für alle TUHH-Angehörigen einen Nutzen bringen", erklärt Teamsprecher Jonas Köster das Ziel von Funkenflug. Betreut werden die Studenten von Prof. Cornelius Herstatt sowie von den wissenschaftlichen Mitarbeitenden Sandra-Luisa Moschner und Malte Krohn vom Institut für Technologie- und Innovationsmanagement an der TUHH.
University Innovation Fellows-Programm
Das University Innovation Fellows-Programm hat bereits an weltweit 258 Einrichtungen 1.838 Studierende sowie Doktorandinnen und Doktoranden aus den unterschiedlichsten Fachbereichen ausgebildet. Die Programm-Teilnehmenden arbeiten an ihren jeweiligen Universitäten in Projektgruppen bis zu sechs Mitgliedern, um mit Innovation und Kreativität eine unternehmerische Denkweise und nachhaltige Entwicklungen an ihrem Campus zu fördern. Finanziert wird das Förderprogramm durch Teilnahmegebühren und durch das Hasso Plattner Institute of Design an der Stanford Universität in den USA.
Video zum Projekt Funkenflug unter https://youtu.be/qrF947wwH6o
---
TUHH - Public Relations Office
Franziska Trede
E-Mail: franziska.trede@tuhh.de
Phone: +49 40 428 78 3458