Mit Nanopartikeln den Klimawandel aufhalten: US-Wissenschaftler Eric Hill forscht an der TUHH
13.12.2018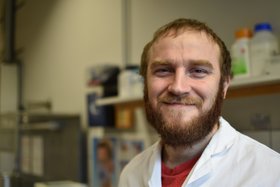 Nach dem Abschluss des Pariser Klimaabkommens Ende 2016 haben die deutsche und die französische Regierung das Programm "Make Our Planet Great Again" verabschiedet. Die gemeinsame Initiative soll die Forschung zum Klimawandel verstärken. Eine Expertenjury des Deutschen Akademischen Austauschdienstes (DAAD) hat aus rund 300 Bewerbungen für die drei Cluster "Climate Change", "Earth System Research" und "Energy Transition" 13 international renommierte Wissenschaftler als Projektleiter in Deutschland ausgewählt.
Die Technische Universität Hamburg (TUHH) konnte den US-amerikanischen Forscher Dr. Eric Hill gewinnen, der am Institut für Keramische Hochleistungswerkstoffe für den Bereich "Energy Transition" zum Thema "Nanocomposites and Materials for Energy Solutions" tätig ist. Hills Spezialgebiet ist es, die Forschung an Nanopartikeln für den Herstellungsprozess von Wasserstoff einzusetzen. Bei dieser photokatalytischen Wasserspaltung wird das Wasser mit Hilfe des Lichts in Wasserstoff und Sauerstoff aufgespalten. Der Vorteil der Katalyse besteht darin, dass Ladungstrennung und Spaltung des Wassers von einem Material an der gleichen Grenzfläche erfolgt, so dass Übertragungsverluste gering sind und Material eingespart werden kann.
Hills Ziel ist es, mit neuen Materialien Wasserstoff einfacher herstellen zu können als es bislang der Fall ist. "Wir entwickeln hier an der TU Nanopartikel und Komposite, damit die Photokatalyse einfacher und schneller ablaufen kann", sagt Eric Hill. Diese Partikel sollen widerstandsfähiger sein und in großer Menge erzeugt werden können. Der separierte Wasserstoff kann anschließend als Antriebsenergie eingesetzt werden.
Hill hat in den USA im Bundesstaat Oregon Chemie studiert, promovierte an der Universität New Mexico über Colloidal Chemie und beschäftigte sich auf diesem Gebiet zuletzt an der Universität im spanischen San Sebastian mit Oberflächenforschung. Er wird, wie die anderen Teilnehmer im Programm, eine eigene Forschungsgruppe aufbauen. Darüber hinaus sind regelmäßige Treffen und Konferenzen geplant – auch mit den französischen Kollegen. Hills Projekt "Nanocomposites and Materials for Energy Solutions" wird gefördert vom Bundesministerium für Bildung und Forschung (BMBF) im Rahmen der Forschungsinitiative "Make our Planet Great Again – German Research Initiative", die durch den Deutschen Akademischen Austauschdienst (DAAD) umgesetzt wird. Das Programm ist auf insgesamt fünf Jahre angelegt und wird mit 15 Millionen Euro finanziert.
---
TUHH - Public Relations Office
Jasmine Ait-Djoudi
E-Mail: pressestelle@tuhh.de
Phone: +49 40 428 78 3458