TUHH und Kobe University vereinbaren Kooperation
13.03.2018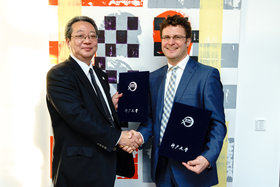 Professor Christian Ringle, Executive Director of International Affairs der Technischen Universität Hamburg (TUHH) und Professor Noriyu Inoue, Executive Vice President International Exchange der Kobe University in Japan, haben in Anwesenheit von Fumie Maruyama vom Japanischen Konsulat Hamburg ein "Memorandum of Understanding" unterzeichnet. Im Mittelpunkt steht der regelmäßige Austausch von Studierenden, Wissenschaftlerinnen und Wissenschaftlern.
Dieses Memorandum ist Ergebnis einer langjährigen Zusammenarbeit zwischen Prof. Michael Schlüter, Dekan der Verfahrenstechnik an der Technischen Universität Hamburg und Professor Akio Tomiyama, Dekan der Graduate School of Engineering, Kobe University, Japan. Durch das Memorandum soll die Begegnung von Wissenschaftlern und Studierenden künftig vereinfacht und weiter intensiviert werden. "Wir freuen uns sehr, mit der Kobe Universität eine weitere Spitzenforschungseinrichtung zu unseren Partnern zählen zu können. Hierdurch können wir unseren Doktoranden und Studierenden künftig einen noch exzellenteren wissenschaftlichen Austausch bieten und wunderbare Einblicke in die faszinierende Kultur Japans", sagt Professor Schlüter.
Zwischen den beiden Dekanaten besteht bereits eine langjährige Kooperation im Bereich der Aufklärung von Transportprozessen in Mehrphasenströmungen. Professor Tomiyama ist an zwei Projekten des TUHH-Instituts für Mehrphasenströmungen zur Untersuchung von Reaktiven Taylorströmungen beteiligt, es wurden mehrere gemeinsame Forschungsarbeiten veröffentlicht. Die Arbeitsgruppe von Professor Tomiyama ist weltweit führend auf dem Gebiet der experimentellen Analyse und numerischen Simulation von Gas-Flüssig-Strömungen, die für viele Prozesse in der Bioverfahrenstechnik und Chemieindustrie von Bedeutung sind.
---
TUHH - Public Relations Office
Jasmine Ait-Djoudi
E-Mail: pressestelle@tuhh.de
Phone: +49 40 428 78 3458