TUHH und FAST Foundation vereinbaren Zusammenarbeit zur Stärkung der Wissenschaft in Armenien
23.10.2017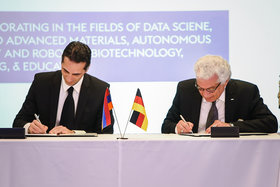 Professor Garabed Antranikian, Präsident der Technischen Universität Hamburg (TUHH), und Armen Orujyan, Geschäftsführer der FAST Foundation, haben im Beisein von Armeniens Präsident Sersch Sargsjan und Premierminister Karen Karapetjan ein Memorandum of Understanding zur Stärkung der Wissenschaft in Armenien unterzeichnet.
FAST steht für "Foundation for Armenian Science and Technology". Mit der noch jungen Stiftung widmen sich weltweit erfolgreiche Wissenschaftler, Ingenieure und Unternehmern aus Armenien und der Diaspora dem gemeinsamen Ziel, technologische Innovationen und wissenschaftliche Fortschritte im Land ihrer Väter und Mütter voranzubringen. Die Stiftung koordiniert Aktivitäten von Wissenschaftlern, Startups und Unternehmern, um deren Arbeit und Einfluss sowohl in Armenien als auch global auszuweiten und so als Katalysator für die Entwicklung von weltweit wettbewerbsfähigen Wissenschaften und Technologien zu dienen.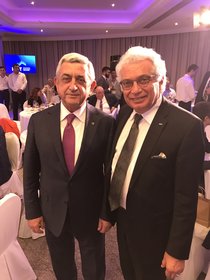 TUHH-Präsident Antranikian, selbst Sohn armenischer Eltern und Ehrendoktor der Nationalen Akademie der Wissenschaften Armeniens, wurde kürzlich zum Vorsitzenden des international hochkarätig besetzten FAST-Beirats gewählt. Im Rahmen eines Symposiums der Stiftung und der amerikanischen National Science Foundation (NSF) unter Einbindung von Universitäten und Forschungseinrichtungen wurde beraten, welchen Beitrag die FAST zum Ausbau der wissenschaftlichen Infrastruktur leisten kann. Mit der Unterzeichung des Memorandums of Understanding wurde nun die Absicht zur engen Zusammenarbeit zwischen der TUHH und FAST erklärt. Die TUHH ist die erste europäische Universität, die die Stiftungsarbeit und somit die Wissenschaft in Armenien aktiv unterstützt. Weitere Partner sind die University of California und das Massachusetts Institute of Technology (MIT).
---
TUHH - Public Relations Office
Jasmine Ait-Djoudi
E-Mail: pressestelle@tuhh.de
Phone: +49 40 428 78 3458