TUHH: Kumar Sourav gewinnt DAAD-Preis 2017
26.09.2017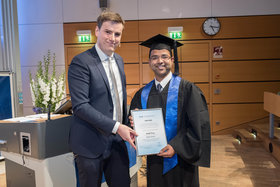 Für sein außerordentliches Engagement hat der indische Student Kumar Sourav am vergangenen Freitag den DAAD-Preis erhalten. Die Verleihung erfolgte während der Absolventenfeier des NIT Northern Institute of Technology Management im Audimax der Technischen Universität Hamburg (TUHH). Die mit 1.000 Euro dotierte Auszeichnung des Deutschen Akademischen Austauschdienstes ehrt aus- ländische Studierende, die sich durch ihren sozialen Einsatz hervorheben und die internationale Zusammenarbeit bereichern.
Zahlreiche Kommilitonen hatten Kumar für den Preis nominiert. Der 28-Jährige überzeugte das Auswahlkomitee aus Studenten und NIT-Mitarbeitern, unter anderem, durch sein großes Interesse an der deutschen Sprache und Kultur. Ob beim Kochen indischer Nationalgerichte oder im Gespräch mit der nachfolgenden Master-Klasse: Kumar hat stets zum interkulturellen Austausch beigetragen.
"Kumars gute Eigenschaften, tragen nicht nur zu einer wärmeren Gemeinschaft bei, sie ermutigen und motivieren auch andere, Fortschritte zu machen und sich weiterzuentwickeln, um etwas Gutes für die Gesellschaft zu tun", zitierte Laudator Stephan Scheuner, Recruiting & Admissions Manager am NIT, aus einem Empfehlungsschreiben.
Preisträger Kumar Sourav schloss kürzlich sein Master-Studium in Technology Management am NIT erfolgreich ab. Parallel dazu studierte er an der TUHH International Production Management (MSc).
Über das NIT
Am NIT Northern Institute of Technology Management in Hamburg lernen Ingenieure und ITler aus aller Welt, Managementaufgaben verantwortungsvoll zu übernehmen. Gemeinsam mit der Technischen Universität Hamburg bietet das private Institut seit 1999 ein englischsprachiges Studienprogramm mit zwei vollwertigen Masterabschlüssen an: Engineering und Technology Management. Jährlich schließen etwa 30 High Potentials ihr Studium ab, darunter Stipendiaten von Unternehmen und Stiftungen. Das MBA-Programm können erfahrene Ingenieure auch berufsbegleitend absolvieren. Darüber hinaus entwickelt das NIT maßgeschneiderte Weiterbildungsangebote für Industrieunternehmen. Mit dem 2016 gegründeten Digital Think Tank bündelt das NIT seine Kompetenzen in den Bereichen Digitalisierung und New Leadership und liefert relevante Impulse zu den Debatten.
Kontakt
NIT Northern Institute of Technology Management gGmbH Alina Gruhn
alina.gruhn@nithh.de
040/42878 4217
---
TUHH - Public Relations Office
Jasmine Ait-Djoudi
E-Mail: pressestelle@tuhh.de
Phone: +49 40 428 78 3458