TUHH goes music: SymphonING Sommerkonzerte 2017
13.07.2017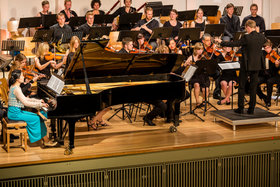 Das Orchester SymphonING der Technischen Universität Hamburg (TUHH) gibt gleich zwei Sommerkonzerte: Klassik vom Feinsten ist am 15. Juli 2017 um 18 Uhr im Freilichtmuseum am Kiekeberg und am 20. Juli 2017 um 20 Uhr in der Friedrich-Ebert-Halle in Heimfeld zu hören. Dirigent ist David Dieterle, die Solistin des Abends ist Rahel Weymar am Cello. Der Eintritt für das Konzert am 20. Juli ist frei. Unterstützt werden die Konzerte von der Karl H. Ditze Stiftung.
Programm
Ludwig van Beethoven
Ouvertüre zum Trauerspiel "Egmont", op. 84

Edward Elgar
Konzert für Cello und Orchester, op. 85
Suite "The Wand of Youth", op. 1

Franz Lehár
Ouvertüre zur Operette "Das Land des Lächelns"

Dmitri D. Schostakowitsch
Galop aus der Operette "Moskau Tscherjomuschki", op. 105

Filmmusik aus "How To Train Your Dragon"
Was? TUHH goes music: SymphonING Sommerkonzerte
Wann? 15. Juli 2017, 18 Uhr
Wo? Freichlichtmuseum am Kiekeberg Agrarium, Am Kiekeberg 1
Eintritt 10,- Euro, ermäßigt 5,- Euro, Museumseintritt inklusive, Kartenverkauf und -reservierung an der Museumskasse oder unter Tel. 040 / 79 01 76 25
Was? TUHH goes music: SymphonING Sommerkonzerte
Wann? 20. Juli 2017, 20 Uhr
Wo? Friedrich-Ebert-Halle, Alter Postweg 34, 21075 Hamburg
Eintritt ist frei.
---
TUHH - Public Relations Office
Jasmine Ait-Djoudi
E-Mail: pressestelle@tuhh.de
Phone: +49 40 428 78 3458