TUHH goes music: Sommerliches Klassikkonzert am 5. Juli um 19 Uhr
01.07.2017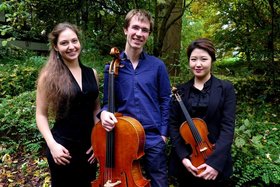 Der Juli wird musikalisch: Die Technische Universität Hamburg (TUHH) und die Hochschule für Musik und Theater (HfMT) laden zu einem Klassikkonzert an die TUHH. Den Auftakt gibt der Pianist Professor Martin Schumann mit Werken von Mozart, Brahms und Chopin. Das Trio HON spielt mit Violine, Cello und Klavier Stücke von Mendelssohn Bartholdy und Karparov. Der Eintritt ist frei.
Martin Schumann ist seit 1995 Professor an der Musikhochschule in Hamburg. Er nahm bereits mehrere Schallplatten und CD-Aufnahmen mit dem NDR, Sender Freies Berlin, Radio Bremen und für die ARD auf. Er nahm viele Konzerttätigkeiten im In- und Ausland wahr. Schumann ist Bundespreisträger bei Jugend musiziert und gewann den ersten Preis beim Steinway-Wettbewerb in Hamburg.
Das Trio HON besteht aus den Künstlern Daria Parkhomenko, Jiae Park und Jakob Christoph Kuchenbuch. Sie gründeten das Trio HOHN in 2016. Alle drei Musiker sind Masterstudierende der Hochschule für Musik und Theater Hamburg und bereits vielfache Preisträger nationaler und internationaler Wettbewerbe. Sie erhielten unter anderem den Preis des Bundespräsidenten im Rahmen des Felix Mendelssohn Bartholdy Hochschulwettbewerb in Berlin 2017.
Daria Parkhomenko (Klavier) wurde 1991 in Rostow am Don geboren, studierte unter anderem am Rostower Rachmaninow-Konservatorium und an der Hochschule für Musik und Theater Hamburg. Die Pianistin spielt Solo-Recitals, Konzerte mit Kammerduo und Klaviertrio in verschiedenen Musikzentren in Russland, Italien, Spanien, Griechenland, Litauen, Deutschland und der Schweiz. Parkhomenko nahm an renommierten Festivals wie "The faces of modern pianism", dem Schleswig Holstein Festival und an den Festspielen in Mecklenburg-Vorpommern teil.
Jiae Park (Geige) erhielt ihre Ausbildung unter anderem an der Seoul Arts High School, an der Hochschule für Musik und Tanz Köln und an der Hochschule für Musik und Theater Hamburg.
Jakob Christoph Kuchenbuch (Cello), geboren 1994, lernte unter anderem an der Hochschule für Musik Franz Liszt Weimar und studiert zurzeit ebenfalls an der Hochschule für Musik und Theater Hamburg. Solistisch als auch kammermusikalisch konzertierte er bereits bei Lunchkonzerten in der Berliner Philharmonie, beim Victoria Festival of Arts (Malta) und bei den Brandenburgischen Sommerkonzerten 2013 mit dem Konzert von Edward Elgar. Er war auch Kammermusikpartner von Viviane Hagner (Violine) im Rahmen der Konzertreihe "Jugend musiziert – das Fest" im Konzerthaus Berlin (2013).
Was? TUHH goes music: Klassikkonzert
Wann? Mittwoch, 5. Juli 2017, 19 Uhr
Wo? TUHH, Audimax I, Gebäude H, Am Schwarzenberg-Campus 5, 21073 Hamburg
Der Eintritt ist frei.
---
TUHH - Public Relations Office
Jasmine Ait-Djoudi
E-Mail: pressestelle@tuhh.de
Phone: +49 40 428 78 3458