Top-Unternehmen suchen Top-Kandidaten für Doppel-Masterstudium an TUHH und NIT
21.02.2017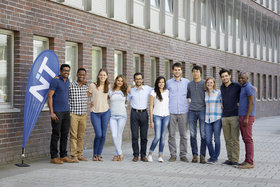 Zwei Master-Abschlüsse auf einmal: Die Studierenden des NIT Northern Institute of Technology Management wollen mehr als "nur" Ingenieurwissenschaften. Sie absolvieren im Doppelstudium einen Master of Science an der Technischen Universität Hamburg (TUHH) und einen Master in Technology Management am NIT. Viele Unternehmen unterstützen diese einzigartige Kombination und vergeben Stipendien an besonders gute Kandidatinnen und Kandidaten.
Das Master-Programm am NIT bereitet ambitionierte, junge Ingenieurinnen und Ingenieure auf spannende Herausforderungen im globalen Kontext vor, damit sie künftig verantwortungsbewusst als Technologiemanager agieren können. Während des zweijährigen Doppelstudiums erweitern die Studierenden aus aller Welt ihre ingenieurwissenschaftliche Expertise um eine fundierte Managementausbildung. Eine Mischung, die auch bei den Unternehmen gut ankommt.
Das Unternehmen NXP Semiconductors unterstützt das NIT seit vielen Jahren und vergibt regelmäßig Stipendien an NIT-Studierende. "Wir schätzen die Ingenieure vom NIT, die neben technischem Know-how auch betriebswirtschaftliches Wissen mitbringen", sagt Georg Menges, Director Cooperative Innovation Projects der NXP Semiconductors Germany GmbH. "Bereits während des Praktikums das sie während des Studiums bei uns absolvieren können wir sie gezielt und eigenverantwortlich einsetzen – eine Win-win-Situation für Unternehmen und Studierende."
NIT-Studierende profitieren während des Studiums von interaktivem und persönlichem Unterricht, internationalen Dozenten sowie einer interkulturellen Lernatmosphäre. Der abwechslungsreiche Einsatz von Case Studies, Simulationen, Exkursionen und Praxisphasen in Unternehmen sowie Vorträge verschiedener Gastredner garantieren die erfolgreiche Verknüpfung von Theorie und Praxis.
In diesem Jahr vergeben voraussichtlich folgende Unternehmen Stipendien an herausragende Bewerberinnen und Bewerber: ArcelorMittal Hamburg, Jungheinrich, Lufthansa Technik, Thomas Matzen GmbH, NXP Semiconductors, Procter & Gamble und Vattenfall Wärme.
Das englischsprachige Programm beginnt mit einem intensiven Deutschkurs im September 2017. Bewerbungsvoraussetzung sind ein abgeschlossenes Bachelorstudium in ingenieurwissenschaftlichen oder IT- Fächern und sehr gute Englischkenntnisse.
Text: Katrin Meyer
---
TUHH - Public Relations Office
Jasmine Ait-Djoudi
E-Mail: pressestelle@tuhh.de
Phone: +49 40 428 78 3458