Hamburger Volksbank Stiftungspreis an exzellente TUHH-Absolventen vergeben
12.10.2016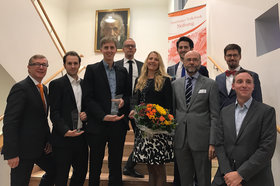 An der Technischen Universität Hamburg (TUHH) ist erstmals der mit 4.000 Euro dotierte Hamburger Volksbank Stiftungspreis für herausragende wissenschaftliche Arbeiten verliehen worden. Ausgezeichnet werden vier Absolventen aus dem TUHH-Dekanat Managementwissenschaften und Technologie (MWT) für betriebswirtschaftliche Masterarbeiten und Dissertationen. Dr. Reiner Brüggestrat, Vorstandssprecher der Hamburger Volksbank, übergab die Preise im Rahmen eines Festaktes an die erfolgreichen Absolventen.
Mit diesem Preis würdigt die Hamburger Volksbank Stiftung zum ersten Mal hervorragende betriebswirtschaftliche Abschlussarbeiten, die an der TUHH entstanden sind. Prämiert werden Arbeiten, die sich durch besondere wissenschaftliche Qualität sowie Praxisbezug und gesellschaftliche Relevanz auszeichnen. "Wir freuen uns über das Engagement der Hamburger Volksbank. Dem Management kommt ein aktiverer Part in der Zukunftsgestaltung von Unternehmen zu. An diesen Themen forschen wir auch an der TUHH", so Professor Cornelius Herstatt, Leiter des Instituts für Technologie- und Innovationsmanagement.
Dr. Reiner Brüggestrat, Vorstandssprecher der Hamburger Volksbank, ist von der gesellschaftlichen Relevanz der Themen begeistert: "Die ausgezeichneten wissenschaftlichen Arbeiten nehmen in den Fokus, wie die fortschreitende Digitalisierung unsere Wirtschaft und Gesellschaft grundlegend verändert. Dieser unmittelbare und gleichzeitig innovative Praxisbezug ist für uns als Genossenschaftsbank, mit einer besonderen Verpflichtung gegenüber unseren Mitgliedern und Kunden, von hoher Bedeutung. Wir werden unsere Rolle als Kreditgeber von wissensbasierten Gründungen ebenso energisch wahrnehmen wie die Förderung von Wissenschaft und Lehre über die Hamburger Volksbank Stiftung. Herzlichen Glückwunsch für eine ausgezeichnete Qualität an unsere diesjährigen Preisträger."
In der Kategorie Masterarbeiten erhielten Tobias Schmidt für seine Arbeit "Projektmanagement im Innovationsprozess – Analyse des Managements von Innovationsprojekten am Beispiel des Lead User Ansatzes" und Arthur Krenz für "The Wisdom of the Crowd. Eine Überprüfung der Weisheit der Vielen am Fallbeispiel transfermarkt.de" je 800 Euro.
In der Kategorie Dissertationen sind Dr. Markus Gunnesch für ihre Promotionsarbeiten "Idealtypen der Rückzugsformierung – Dreidimensionale Betrachtung strategischer Rückzugsprozesse" und Dr. Iris Lorscheid für "LAMDA – Learning Agents for Mechanism Design Analysis" mit jeweils 1.200 Euro ausgezeichnet worden.
Das MWT ist das jüngste Studiendekanat der Technischen Universität Hamburg (TUHH) und wurde im Jahr 2007 eingerichtet. Hierdurch und durch die Gründung von sechs neuen Instituten verstärkte die TUHH ihre betriebswirtschaftliche Kompetenz.
---
TUHH - Public Relations Office
Jasmine Ait-Djoudi
E-Mail: pressestelle@tuhh.de
Phone: +49 40 428 78 3458