Öffentlicher Empfang an der TUHH anlässlich der Verleihung der IEEE Fellowship an Professor Gerhard Bauch
02.06.2015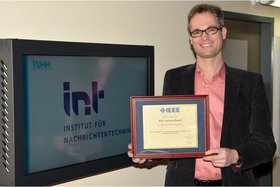 Das Dekanat Elektrotechnik, Informatik und Mathematik gratuliert Professor Gerhard Bauch zu seiner Ernennung zum IEEE Fellow. Die Fellowship wird für außergewöhnliche wissenschaftliche Verdienste verliehen und ist die höchste Auszeichnung des Institute of Electrical and Electronics Engineers (IEEE). Professor Bauch wird damit für seine Beiträge zu Übertragungsverfahren für drahtlose Kommunikation geehrt.
Anlässlich dieser Ehrung lädt das Dekanat zu einem öffentlichen Empfang ein. Professor Bauch wird dabei einen Einblick in sein Forschungsgebiet geben.
Wann: Mittwoch, 10. Juni, 16.15 Uhr?
Wo: TUHH, DE 22, Geb. I, A 013

16.15 Begrüßung?: Prof. Dr. Sibylle Schupp, Dekanatsleitung
Prof. Dr. Sönke Knutzen, Vizepräsident der TUHH
Fabian Niehaus, Vorsitz IEEE Student Branch TUHH
16.30 Prof. Gerhard Bauch?: MIMO und Turbo-Processing –
Informationstheorie für Smartphones
17.00 Empfang
Gerhard Bauch ist Leiter des TUHH-Instituts für Nachrichtentechnik.
Er forscht an zwei wichtigen Bausteinen, die die heutige Multimediakommunikation überhaupt möglich machen: Das sind fehlerkorrigierende Codes sowie die Mehrantennentechnik (MIMO). Die Codes ermöglichen die empfängerseitige Berichtigung von unvermeidlichen Übertragungsfehlern. Die Idee von MIMO ist es, die erreichbaren Datenraten zu erhöhen, indem zeitgleich in demselben Frequenzband von mehreren Antennen gesendet wird.
Bauch studierte Elektrotechnik und Informationstechnik mit Schwerpunkt Informationstechnik an der Technischen Universität München, promovierte ebendort und schloss ein Studium der Volkswirtschaftslehre an der FernUniversität Hagen ab. Nach verschiedenen Stationen als wissenschaftlicher Mitarbeiter am Institut für Nachrichtentechnik des Deutschen Zentrums für Luft- und Raumfahrt (DLR), am Lehrstuhl für Nachrichtentechnik der TU München und in der Industrie, erhielt er eine W3-Professur für Informationsverarbeitung an der Universität der Bundeswehr München. Er war Gastprofessor an der Universität Udine, Italien und der Alpen-Adria-Universität Klagenfurt, seit 2012 leitet er das Institut für Nachrichtentechnik der TUHH. Er erhielt mehrere Auszeichnungen u. a. einige Best Paper Awards (European Personal Mobile Communications Conference (EPMCC) 1997, Globecom 2008 und 2009, IEEE International Conference on Communications (ICC) 2009), den Texas Instruments Award der TUM 2001 sowie den Literaturpreis und den Förderpreis der Informationstechnischen Gesellschaft (ITG im VDE). Er wurde von der IEEE Vehicular Technology Society zum Distinguished Lecturer 2011-2015 ernannt.
Das IEEE hat sich der Förderung technologischer Innovation zum Nutzen der Menschheit verschrieben. Die Vereinigung veranstaltet Fachtagungen und Konferenzen, ist Herausgeber verschiedener wissenschaftlich anerkannter Fachzeitschriften und bildet Gremien für die Standardisierung von Techniken, Hardware und Software. Weltweit sind mehr als 400.000 Mitglieder in über 160 Ländern im IEEE organisiert.
---
TUHH - Public Relations Office
Martina Brinkmann
E-Mail: pressestelle@tuhh.de