Mit Zuversicht in die Zukunft: TUHH verabschiedet Absolventen
Wissenschaftssenatorin Gundelach unter den Ehrengästen im Audimax I
25.06.2010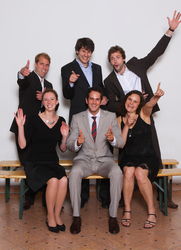 Es ist geschafft - und für jeden Einzelnen so bedeutsam wie der Titelgewinn für die Teilnehmer der Fußball-Weltmeisterschaft in Südafrika. 183 Absolventen der TUHH haben am Freitag, 25. Juni, im Beisein von Hamburgs Wissenschaftssenatorin Dr. Herlind Gundelach im Audimax I ihre Urkunden zum Bachelor of Science, Master of Science oder das Diplom in den Ingenieurwissenschaften entgegennehmen und ihren bestandenen Abschluss feiern. Als junge Ingenieure und Ingenieurinnen der TUHH steht ihnen die Berufswelt offen, viele haben bereits am Tag der Absolventenfeier ihren Berufsstart hinter sich.
Einer der Absolventen, Christian Lukianto, trat stellvertretend für alle 300, die zwischen dem September 2009 und Februar 2010 ihr Examen abgelegt haben, als Absolventensprecher ans Mikrofon des Audimax' und ließ vor mehr als 600 Gästen - Eltern, Großeltern, Freunden der Absolventen sowie Ehrengästen - das anspruchsvolle und streckenweise anstrengende Studium Revue passieren. Die Festrede hielt Dr.-Ing. Hermann Klein.
Klein ist ein Alumni der TUHH. Der Ingenieur hat sich 1992 über die Kraftstoffeinspritzung bei Schiffsmotoren am Institut für Energietechnik bei Prof. Dr.-Ing. Rulfs promoviert. Heute ist der promovierte Ingenieur Vorstandsmitglied der Germanischen Lloyd AG. Geblieben ist seine Verbundenheit zur TUHH, für die er sich nicht zuletzt auch als Vorsitzender der Stiftung zur Förderung der TUHH engagiert.
Damit aus Absolventen später Alumni werden, die ihrer Alma Mater verbunden bleiben, hat die TUHH einen Alumni & Career-Bereich aufgebaut mit dem Ziel der Kontaktpflege zu den Ehemaligen.
TUHH-Präsident Prof. Dr.-Ing. habil. Edwin Kreuzer hatte die 6. Absolventenfeier an der TUHH eröffnet und zahlreiche Ehrengäste begrüßt, darunter Hamburgs Wissenschaftssenatorin Herlind Gundelach der Vorsitzende des Vorstands der Lufthansa Technik AG und Mitglied des Hochschulrates der TUHH, August Wilhelm Henningsen, sowie die Bürgerschaftsabgeordnete Karin Koop (CDU). Durch den Abend, dessen geselliger Teil in der Mensa mit einem Buffet eröffnet wird, führte Dr. -Ing. Dietmar Dunst, Leiter des Servicebereichs Lehre und Studium. Die musikalische Begleitung übernahm auch in diesem Jahr wieder der TUHH-Chor SingING.
Haben alle Arbeit gefunden? "Ich kenne keinen, der arbeitslos geblieben wäre", sagt Dr. Dietmar Dunst, Leiter des Servicebereichs Lehre und Studium. Wenn auch wegen der Weltwirtschaftskrise nicht jeder Absolvent sofort seine Traumtätigkeit in der bevorzugten Stadt finden könne, so zählen die Ingenieure der TUHH zu den gefragten Arbeitskräften auf dem Markt. Generell übersteige unverändert die Nachfrage nach qualifizierten Ingenieuren das Angebot.
Die Absolventenfeier erfreut sich wachsender Beliebtheit. Dies zeigt sich auch darin, dass 183 von 300 Absolventen heute Abend mit von dieser Party sind, mehr als in den Jahren zuvor. Die größte Gruppe bildet erstmals das Dekanat Elektrotechnik und Informatik-Ingenieurwesen mit 63 Absolventen, gefolgt vom Maschinen- und Schiffbau mit 46 Absolventen. Die Internationalität der TUHH spiegelt sich mit einem mehr als 20-prozentigen Anteil ausländischer Absolventen wieder. Der Anteil der Frauen ist im bundesweiten Vergleich beachtlich hoch mit 71 Ingenieurinnen von insgesamt 300 Absolventen.
Viele haben einen Arbeitsplatz außerhalb der Metropole Hamburgs gefunden, auch dies ist ein Grund dafür ist, weshalb zu den Absolventenfeiern nie alle Absolventen kommen. Manche sind dienstlich auf Reisen und deshalb verhindert, andere haben sich direkt nach dem Examen zunächst einmal eine Auszeit genommen und sind aus diesem Grund irgendwo in der Welt unterwegs.
Der ausführliche Bericht über die Absolventenfeier sowie aktueller Fotos folgt in Kürze. Es folgen Kurzporträts von drei der 300 TUHH-Absolventen der Jahrgangstufe 2009/2010.
---
TUHH - Public Relations Office
Jutta Katharina Werner
E-Mail: pressestelle@tuhh.de